Ace Frehley says he's hoping to be asked to join Kiss on their End Of The Road world tour.
The band announced their intention to head out for a final time last week (opens in new tab), and while no dates have been confirmed, Frehley says he'd like to be involved "for the fans."
He made the comments at the Hollywood Musicians Institute this week, saying (via Blabbermouth (opens in new tab)): "I haven't been asked. I had a meeting with those guys several months ago and they talked about retiring to me, and that didn't seem right either. Who knows what's going to happen?
"I read comments on the internet and I fall off my bed laughing. There's all these people that have all these different ideas of a configuration of what the next Kiss tour should be and it's crazy. But overwhelmingly, they want me back in the band, I think. That's what I'm reading on the internet."
Frehley added: "I'm doing fine on my own. My career is on an upswing and I'm having a ton of fun – I like producing my own records. I don't like anybody standing over my shoulder telling me what to do.
"I've had a lot of freedom, and working with Paul Stanley and Gene Simmons again, it would be different. But then again, I'd probably make $5 or $10 million, so I might consider that...
"Hopefully next year, what all the Kiss fans really want to happen will happen. I'm hoping. I want to be involved, especially for the fans. It's not like my dream job, because I've done it a couple of times and quit, but I really want to do it for the fans if it's going to happen."
Speculation had been swirling that Frehley could commence another stint with Kiss ever since he and Stanley reconnected in 2016.
However, both Stanley and Simmons have since ruled out the possibility, with Simmons saying in September last year: "That's not gonna happen. Ace has been in and out of the band three different times. That's enough."
Frehley will release his new solo album Spaceman on October 19 via Entertainment One, which features Simmons on bass on two tracks: Your Wish Is My Command and Without You I'm Nothing, which Ace co-wrote with his old bandmate.
Ace Frehley - Spaceman
1. Without You I'm Nothing
2. Rockin' With the Boys
3. Your Wish Is My Command
4. Bronx Boy
5. Pursuit Of Rock and Roll
6. I Wanna Go Back
7. Mission To Mars
8. Off My Back
9. Quantum Flux
Ace Frehley 2018 tour dates
Oct 31-Nov 05: Kruise VIII, FL
Nov 09: Clearwater Capitol Theatre, FL
Nov 10: Melbourne King Center for the Performing Arts, FL
Nov 11: Miramar Amphitheatre, FL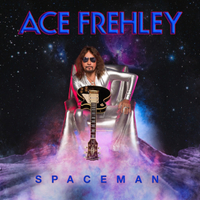 (opens in new tab)
Ace Frehley - Spaceman (opens in new tab)
Ace Frehley returns with his new studio album Spaceman, featuring the lead singles Bronx Boy (opens in new tab) and Rockin' With The Boys (opens in new tab). The record will feature a guest appearance from Ace's old Kiss bandmate Gene Simmons.