The Prime Day music deals have started to come in - and there are some head-spinning deals on turntables doing the rounds. The first to make me sit up and take notice is a 30% saving on the price of the Audio-Technica AT-LP3BK on Amazon - it's down from $249 to $174.30 - a price drop of more than $74.
And as if that wasn't enough, I also spotted 10% off the Audio-Technica AT-LP60XBT-USB-BK turntable, which has a new Prime Day price of $249 - that's down from $279.
And if you're based in the UK, you don't have to feel left out, because Amazon have knocked a prime 25% cut from the regular price of the Audio-Technica AT-LP3BK - reducing it from £259.99 to £194.65.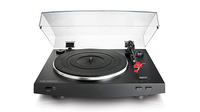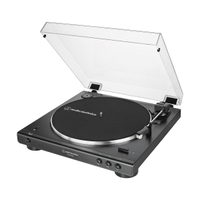 Audio-Technica AT-LP60XBT-USB-BK: $279, now $249
Similar to the Audio-Technica AT-LP60XBT but with added feature that you can hook up this model to your laptop or computer and convert your vinyl into digital. With included phono cartridge, this two-speed, belt-driven turntable is a rock-solid bit of kit - and it looks the business.
Price check: Walmart $279 | Target $399
In Louder's review of the fully automatic, belt-driven Audio-Technica AT-LP3BK, we were quick to give it a score of 5/5 thanks to its top audio performance and ease of use. It also has a phono preamp built in - something that's not always guaranteed when buying a turntable in this price bracket - and it means there's no need to splash out extra cash this Prime Day.
It's also easy to set up, making this an ideal choice if your taking your first steps on your vinyl journey. It also features high in our list of the best budget turntables where it finds itself up against some stiff competition.
The AT-LP60XBT-USB-BK, meanwhile, is another nice bit of kit from the Audio-Technica team. It's another fully automatic, belt-driven record player with built-in phono preamp - but with this, you'll be able to rip your vinyl collection into digital files by hooking it up to your PC or laptop and comes highly recommended.
And if you're looking for more options, take a look at our Prime Day turntable deals page. We've also picked out the best Prime Day vinyl deals too, so you'll have something to spin on your shiny new turntable.