A Perfect Circle have released a 2D video for Eat The Elephant – the title track from their latest studio album.
The original 3D footage appeared as a download in the deluxe box set of the record, with users able to see the full effect by placing a prism on top of their smartphones.
The original 58-minute hologram film was created by Sundance award-winning filmmaker Steven Sebring and unfolds through the eyes of a young girl over the 12-song album arc.
In the Eat The Elephant clip, we get to see a selection of unsettling images while the atmospheric song slowly unfolds. Check it out below.
Speaking about the collaboration, Sebring said: "Having Maynard and Billy's trust to create this for A Perfect Circle was a true artist's dream.
"Their 14-year break allowed technology to catch up with their groundbreaking music and gave me the chance to apply new ideas of dimensional capture to this stunning album."
It's also been announced that A Perfect Circle will take part in Record Store Day's Black Friday celebration by releasing a limited edition 7-inch vinyl featuring So Long, And Thanks For All The Fish, which will be backed by a cover or AC/DC's Dog Eat Dog.
A Perfect Circle will head out on the road again later this month for a run of dates across the US. They'll then return to the UK and Europe in December.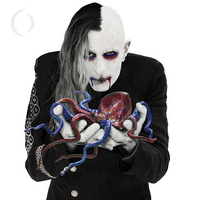 A Perfect Circle - Eat The Elephant
A Perfect Circle return with their highly anticipated new album Eat The Elephant – a departure from what fans have come to expect, perhaps, but one of this year's best.