The Night Flight Orchestra - Sometimes The World Ain't Enough
1. This Time
2. Turn To Miami
3. Paralyzed
4. Sometimes The World Ain't Enough
5. Moments Of Thunder
6. Speedwagon
7. Lovers In The Rain
8. Can't Be That Bad
9. Pretty Thing Closing In
10. Barcelona
11. Winged And Serpentine
12. The Last Of The Independent Romantics
The Night Flight Orchestra have released an 80s themed video for their new single Turn To Miami.
It's the latest track taken from the band's upcoming album Sometimes The World Ain't Enough, which will launch tomorrow (June 29) via Nuclear Blast.
Vocalist Björn Strid, bassist Sharlee D' Angelo, guitarist David Andersson, keyboardist Richard Larsson, drummer Jonas Källsbäck and guitarist and percussionist Sebastian Forslund previously released the track This Time from the record.
The band say in a statement: "This video has it all: secretaries, dancers, window blinds, laser eyes and the band on absolute fire.
"Really enjoyed recording this one and it's beautifully executed by brilliant director René U Valdes! Enjoy everyone!"
The Night Flight Orchestra will launch the album at the ABBA Museum in Stockholm, Sweden, tomorrow night, and will then embark on a European tour later this year, kicking off at Malmo's KB on November 1 and wrapping up at Matrix in Bochum on December 12.
Find a full list of dates below.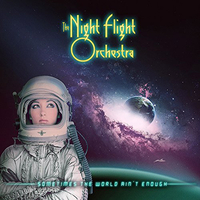 The Night Flight Orchestra 2018 European tour dates
Nov 01: Malmö KB, Sweden
Nov 02: Weissenhäuser Strand, Germany
Nov 03: Skövde in Rock, Sweden
Nov 08: Stockholm Kägelbanan, Sweden
Nov 10: Gothenburg Sticky Fingers, Sweden
Nov 11: Oslo John Dee, Norway
Nov 16: Helsinki On The Rocks, Finland
Nov 23: Cologne Luxor, Germany
Nov 24: Osnabrück Rosenhof, Germany
Nov 25: Zoetermeer Boerderij, Netherlands
Nov 26: Arnhem Willemeen, Netherlands
Nov 27: Vosselaar Biebob, Belgium
Nov 28: Nantes Le Ferrailleur, France
Nov 30: London Underworld, UK
Dec 01: Paris Petit Bain, France
Dec 02: Toulouse Le Rex, France
Dec 03: Madrid Caracol, Spain
Dec 04: Barcelona Bóveda, Spain
Dec 05: Lyon Warmaudio, France
Dec 06: Milan Legend Club, Italy
Dec 08: Zurich Dynamo, Switzerland
Dec 09: Mannheim MS Connection, Germany
Dec 10: Salzburg Rockhouse, Austria
Dec 11: Budapest A38, Hungary
Dec 12: Vienna Szene, Austria
Dec 13: Graz Dom im Berg, Austria
Dec 14: Munich Backstage, Germany
Dec 15: Prague Nova Chmelnice, Czech Republic
Dec 16: Nürnberg Hirsch, Germany
Dec 17: Saarbrücken Garage, Germany
Dec 18: Aschaffenburg Colos-Saal, Germany
Dec 19: Berlin Bi Nuu, Germany
Dec 20: Jena F-Haus, Germany
Dec 21: Dresden Eventwerk Studio, Germany
Dec 22: Bochum Matrix, Germany