Alice Cooper guitarist Nita Strauss has released a video for her new single Our Most Desperate Hour.
The track has been lifted from her debut solo album Controlled Chaos, which is set to launch on November 16 via Sumerian Records.
Speaking about the 11-track album, Strauss says: "From bright and fun to aggressive and dark, from peaceful to chaotic, this album is a way for me to give the listener a glimpse into my personality and what goes on inside my mind."
Strauss also says that focusing on Controlled Chaos gave her the opportunity to reconnect on the music that inspired her to start playing guitar.
She adds: "I started playing guitar because of instrumental guitar music. All my real heroes made instrumental albums.
"All my own career has been spent playing in bands, but I never forgot that dream of what inspired me to pick up the guitar in the first place."
Controlled Chaos is now available for pre-order. Find out more below.
Nita Strauss - Controlled Chaos
1. Prepare For War
2. Alegria
3. Our Most Desperate Hour
4. Mariana Trench
5. Here With You
6. The Stillness At The End
7. The Quest
8. Hope Grows
9. Lion Among Wolves
10. Pandemonium 2.0
11. The Show Must Go On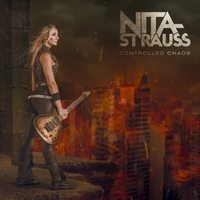 (opens in new tab)
Nita Strauss - Controlled Chaos
Alice Cooper guitarist Nita Strauss is set to release her debut solo album, Controlled Chaos. It's packed with 11 instrumental tracks – including the lead single Our Most Desperate Hour.