Thumpermonkey have released a video for their track Tempe Terra.
The song has been taken for the the quartet's new record Make Me Young, Etc, which was released in October via Rockosmos. The concept album counts down to the end of the world, with Tempe Terra the grand finale.
Vocalist and guitarist Michael Woodman says: "Tempe Terra started life as an experiment with a new guitar tuning that I had been using. It was very saccharine and major-key in its first incarnation.
"I submitted my guitar part to the band, and in true Thumpermonkey fashion, it was delivered back to me sounding really wonky and ambiguous, which was totally the correct thing to do, of course."
Woodman adds: "Lyrically, Tempe Terra is a mournful, post-human coda for the album. If any humans do escape Earth and colonise Mars to start afresh, there's always the fear that they'll bring all their awful conceptual baggage with them and make a mess of Earth Mk2 as well."
Back in September, Thumpermonkey released the single Vedlt exclusively with Prog.
Make Me Young, Etc is now available to purchase. Find further details below.
Thumpermonkey: Make Me Young, Etc
1. Veldt
2. Cranefly
3. Figstorm
4. Buttersun
5. Deckchair For Your Ghost
6. Make Me Young, Etc
8. Tempe Terra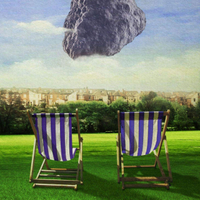 Thumpermonkey: Make Me Young, Etc
Thumpermonkey return with their latest album Make Me Young, Etc, which features the lead tracks Veldt and Tempe Terra. Not to be missed!