Steve Perry has released a video for his new track No More Cryin'.
It's the second song taken from the former Journey vocalist's comeback album Traces, which is set to arrive on October 5 via Concord Records. Perry premiered No Erasin' (opens in new tab) last month.
Traces will be the singer's first solo outing since 1994's For The Love Of Strange Medicine.
Speaking about No More Cryin', which he co-wrote with Semisonic's Dan Wilson, and features Booker T. Jones on Hammond organ, Perry says on his website (opens in new tab): "It's a tough one to talk too much about.
"I can only tell you that there are overtones on that one about isolation and my past, though it somehow turns into a love song eventually.
"But if someone hurts you, there usually is some love involved. At the last minute, co-producer Thom Flowers found that song on one of my drives, and pushed for us to go back and work on it. It's now one of my favourites."
Speaking back in 2014, Perry hinted that he would make his long-awaited return to music, saying: "I've just been writing music and seeing what I could find. It's such a new cool world of music when you're mixing electric music with rock like Muse and Imagine Dragons. It's such a cool direction."
The vocalist enjoyed two stints with Journey and left the band for good in 1998.
Traces is now available for pre-order. Find details below.
Steve Perry - Traces
1. No Erasin'
2. We're Still Here
3. Most Of All
4. No More Cryin'
5. In The Rain
6. Sun Shines Gray
7. You Belong To Me
8. Easy To Love
9. I Need You
10. We Fly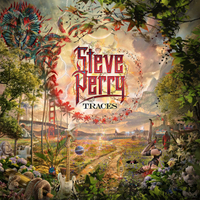 (opens in new tab)
Steve Perry - Traces (opens in new tab)
Former Journey vocalist Steve Perry returns with his highly anticipated new solo album Traces – his first since 1994's For The Love Of Strange Medicine.