Positive Grid have unveiled the latest addition to their hugely popular Spark amp range in the shape of the brand new Spark Go, a powerful guitar amp and Bluetooth speaker. It's set for release in late May priced at $149/£129 - but if you pre-order now, you can grab it for $109/£89.
The ultra-portable amp follows in the footsteps of the original Spark amp and the Spark Mini - both of which have been well received by the music-playing public - and we'd be surprised if the Spark Go didn't follow suit.
While the Spark Mini was small, the Spark Go is pocked-sized meaning you can carry it around with ease and experience the full sound no matter where you go. The Spark Go comes loaded with 33 authentic amp models along with 43 effects so you'll be able to tailor your sound while on the move. It's also fully integrated with the Spark app for even more cool stuff including access to more than 50,000 guitar tones, AI-powered auto chords, Smart Jam and more.
And as if that wasn't enough, the Spark Go also doubles are a neat portable Bluetooth speaker with up to eight hours of music playback - perfect for dropping in the backpack for this summer's festival season.
Future's very own Daryl Robertson has been putting the Spark Go through its paces and has been impressed with the results.
Daryl says: "The Spark Go is a triumph. Not only is it an insanely portable and durable Bluetooth speaker, but it's also a fabulous guitar amp and audio interface in its own right. I was truly taken aback by how big and full this pint-sized device sounds. The vast and rich tones produced will do justice to whatever you decide to play through it - be that your favourite tunes or your own guitar."
The Spark Go delivers 5 Watts of power and has anti-vibration tech to ensure top performance. Check out a product video and gallery below, and visit the official Positive Grid website for more.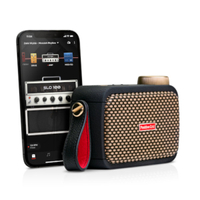 Positive Grid Spark Go - Pre-order and save $40/£40
The Positive Grid Spark and Spark Mini will be joined in May by the super smart Spark Go - an all-in-one guitar/bass amp and Bluetooth speaker. It'll ship in May priced at $149/£129, but if you pre-order now, you can get it for $109/£89.
Related guides