Queensryche have released a lyric video for Man The Machine.
It's the first taste of the material that'll feature on the band's upcoming album The Verdict, which is due to arrive on March 1 via Century Media.
Speaking about the follow-up to 2015's Condition Human vocalist Todd La Torre said: "I'm extremely proud of what we were able to accomplish on this record. The relentless dedication and hard work of everyone involved has been very rewarding.
"I am excited and looking forward to it no longer just belonging to us, but belonging to the world. We hope you all enjoy listening to it as much as we enjoyed making it."
Guitarist Michael 'Whip' Wilton added: "The Verdict is the most metal and the most progressive record we have made in a long time. I couldn't possibly be more excited for everyone to hear this."
Pre-orders are currently being taken exclusively through PledgeMusic, where backers can get their hands on a range of extras including signed CDs and vinyl, hoodies and t-shirts, handwritten lyric sheets and even the chance to be an extra in one of their videos.
Queensryche have one live show planned for this year at Jackson, California, on December 20. They'll then embark on further dates across the the US before retuning to Europe next August for shows at Wacken Open Air and Bloodstock.
Queensryche: The Verdict
1. Blood Of The Levant
2. Man The Machine
3. Light-years
4. Inside Out
5. Propaganda Fashion
6. Dark Reverie
7. Bent
8. Inner Unrest
9. Launder The Conscience
10. Portrait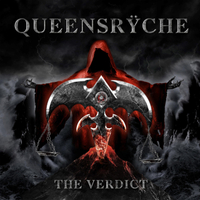 Queensryche: The Verdict
Queensryche return with their first album since 2015's Condition Human. Todd La Torre and co gave the first taste of their new material with the blistering single Man The Machine.