Skyharbor have released a stream of their new single Sunshine Dust.
It's the title track from their upcoming album which will launch on September 7 via Entertainment One/Good Fight Music.
The band previously released Dissent (opens in new tab) and Dim (opens in new tab) from the follow-up to 2014's Guiding Lights (opens in new tab).
Guitarist Keshav Dhar says: "Sunshine Dust is the personal favourite for us. It was written at the end of the Guiding Lights sessions and has gone through a lot of metamorphoses before arriving at its current form, with Kim Benzie from Dead Letter Circus co-writing a lot of the melodies.
"It encapsulates everything that defines our sound, the heart-on-sleeve emotion, drenching ambiance… and big riffs. It's possibly vocalist Eric Emery's finest moment on the record."
Skyharbor will head out on tour across the US later this year, following a set at the Louder Than Life festival. Find a list of their live dates below.
Skyharbor - Sunshine Dust
1. Signal
2. Dim
3. Out Of Time
4. Synthetic Hands
5. Blind Side
6. Disengage/Evacuate
7. Ethos
8. Ugly Heart
9. The Reckoning
10. Dissent
11. Menace
12. Temptress
13. Sunshine Dust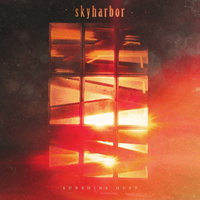 (opens in new tab)
Skyharbor - Sunshine Dust (opens in new tab)
Progressive metal outfit Skyharbor return with their first album since 2014's Guiding Lights - featuring the singles Dim, Dissent and the stunning title track.
Skyharbor 2018 US tour dates
Sep 28: Louisville Louder Than Life Festival, KY
Oct 03: Asbury Park Asbury Lanes, NJ (w/ 10 Years)
Oct 05: Angola The Eclectic Room, IN (w/ Shaman's Harvest)
Oct 08: Green Bay Riverside Ballroom, WI (w/ Tremonti, 10 Years)
Oct 09: Milwaukee The Rave II, WI (w/ Tremonti, 10 Years)
Oct 11: Peoria Monarch Music Hall, IL (w/ Tremonti, 10 Years)
Oct 12: Miami Buffalo Run Casino & Resort, OK (w/ 10 Years)
Oct 13: Fort Smith Temple Live, AR (w/ 10 Years)
Oct 14: Lafayette The District, LA (w/ 10 Years)