King Crimson have added three new dates to their upcoming UK tour.
The band will head out on the road on the Uncertain Times run of shows at the end of November – and they've extended their live commitments to take in further concerts in Nottingham, Liverpool and Edinburgh.
King Crimson say: "We may live in Uncertain Times but King Crimson will be on tour in the UK in October and November, playing tracks from all eras of KC history and beyond."
Find a full list of dates below
Prior to the start of the tour, King Crimson will release the new album Meltdown: Live In Mexico on 3CD/Blu-ray on October 19.
The footage was captured during the band's five-night residency at the Teatro Metropolitan, Mexico City, in July 2017. It was mixed by Bill Rieflin from the full multi-track recordings, with the Blu-ray featuring more than two hours of HD multi-cam footage.
It'll be presented in two mini-vinyl style gatefold packs with booklet, which includes photos by Tony Levin and new liner notes enclosed in an outer slipcase.
King Crimson 2018 UK tour dates
Oct 29: Bournemouth Pavilion Theatre
Oct 31: Cardiff St Davids
Nov 02: London Palladium
Nov 03: London Palladium
Nov 06: Birmingham Symphony Hall
Nov 07: Nottingham Royal Concert Hall - New date
Nov 09: Manchester Bridgewater Hall
Nov 10: Liverpool Empire Theatre - New date
Nov 12: Glasgow Royal Concert Hall
Nov 13: Edinburgh Playhouse - New date
King Crimson: Meltdown - Live In Mexico
CD1
1. Walk On
2. Larks' Tongues in Aspic, Pt. 1
3. Neurotica
4. Cirkus
5. Dawn Song
6. Last Skirmish
7. Prince Rupert'sLament
8. The Hell Hounds of Krim
9. Red
10. Fallen Angel
11. Islands
12. The Talking Drum
13. Larks' Tongues in Aspic, Pt. 2
CD2
1. Indiscipline
2. The ConstruKction of Light
3. Epitaph
4. Banshee Legs Bell Hassle
5. Easy Money
6. Interlude
7. The Letters
8. Sailor's Tale
9. CatalytiKc No. 9
10. Meltdown
11. Radical Action II
12. Level Five
13. Starless
CD3
1. Peace - An End
2. Pictures of a City
3. Devil Dogs of Tesselation Row
4. Fracture
5. The Court of the Crimson King
6. Heroes
7. 21st Century Schizoid Man
8. Discipline
9. Moonchild
10. Tony's Cadenza
11. Jeremy's Cadenza
12. Breathless
13. Cool Jam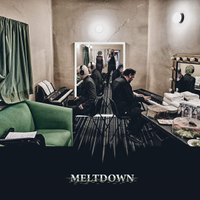 (opens in new tab)
King Crimson - Meltdown: Live In Mexico (opens in new tab)
King Crimson's latest live released was recorded and filmed during their five-night residency at the Teatro Metropolitan, Mexico City, in July 2017.