Iron Maiden have joined forces with biking brand Melon Optics to launch an exclusive range of mountain trail bike sunglasses, bike goggles, t-shirts and gloves.
Three pairs of sunglasses have been revealed: The Layback, Kingpin and Arcade - the latter of which features the Maiden logo on the outer leg and Eddie in some of his most famous cover shots on the inside legs.
The mountain bike goggles come in four designs: Parker Eddie, Parker N.O.T.B, Diablo Eddie and Diablo N.O.T.B. Every model comes in a range of colour options, featuring the band's logo along with assorted artwork on the head strap.
There's also a short-sleeve and long-sleeve t-shirt with a Run To The Hills back print along with Run To The Hills gloves and a pair with Eddie in his Killers guise.
Melon Optics say: "Raised from the fiery trails of hell, the limited edition Melon Optics x Iron Maiden collection has risen to awaken your inner metalhead trail thrasher.
"Carved with the same Powerslave precision as a mind-melting Iron Maiden guitar solo, these goods have arrived with fire and force so you can ride free and rock out in style."
All items with the exception of the Kingpin sunglasses are available to buy now from the official Melon Optics website.
Iron Maiden will head back out on the road on the latest leg of The Future Past Tour on September 28 with a show at Calgary's Scotiabank Saddledome.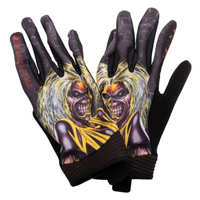 Melon Optics x Iron Maiden collection
Iron Maiden and Melon Optics have joined forces to release a new range of limited edition merch that includes sunglasses, goggles, t-shirts and bike gloves. All are branded with the band's logo, while mascot Eddie also features on several of the products. Get in quick!