Idles have released a video for their new single Great.
The song, which takes aim at Brexit, will feature on the band's upcoming album Joy As An Act Of Resistance, which is set to arrive on August 31 via Partisan.
Singer Joe Talbot says of the track: "Let us go forward with open minds and open hearts into that fuck off fire we've started. No blame, no hate. Just love and a blue passport."
Earlier this month, Idles announced details of a pop-up art exhibition which will raise money for the Samaritans.
The gallery will contain 18 contributions from 10 artists, inspired by each of the songs on Joy As An Act Of Resistance and will be held at HM Electrics Gallery, London, on August 30-31. Entry will be between 12-8pm and is free to attend.
Idles recently announced a run of live in-store dates in support of the new album – find details below.
Idles - Joy As An Act Of Resistance
1. Colossus
2. Never Fight a Man With a Perm
3. I'm Scum
4. Danny Nedelko
5. Love Song
6. June
7. Samaritans
8. Television
9. Great
10. Gram Rock
11. Cry To Me
12. Rottweiler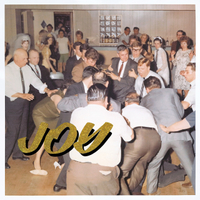 Idles - Joy As An Act Of Resistance
Idles return with their second album Joy As An Act Of Resistance - the follow-up to 2017's Brutalism, featuring the singles Colossus and Great.
Idles in-store UK dates
Aug 30: London Banquet Records
Aug 31: Bristol Rough Trade (3pm)
Aug 31: Bristol Rough Trade (7pm)
Sep 03: Portsmouth Pie and Vinyl (1pm)
Sep 03: Brighton Resident (6.30pm)
Sep 04: London Rough Trade East
Sep 05: Sheffield Record Junkee (1pm)
Sep 05: Nottingham Rough Trade (7.30pm)
Sep 06: Leeds Crash Records (1pm)
Sep 06: Manchester FOPP (5.30pm)
Sep 07: Cardiff Spiller Records