ZZ Top's Billy Gibbons has released a lyric video for his new track Missin' Yo' Kissin'.
It's been lifted from his upcoming solo album The Big Bad Blues, which will arrive on September 21 via Snakefarm Records.
The promo features a selection of shots of vintage cars – one of Gibbons' passions – with the vocalist and guitarist revealing that he conceived the idea for the song with his wife, Gilligan.
Gibbons says: "Missin' Yo' Kissin' is a gift from Miz Gibbons. She knows what girls want and laid it out cold."
Last month, the ZZ Top man revealed his cover of Muddy Waters' Rollin' And Tumblin' (opens in new tab) from the follow-up to 2015's Perfectamundo, which was co-produced by Gibbons and Joe Hardy and recorded at Houston's Foam Box Recordings.
The album features a total of 11 tracks with Gibbons joined by Hardy on bass, Matt Sorum and Greg Morrow on drums, Mike 'The Drifter' Flanigin on keyboards, while James Harmon contributes harmonica to the record.
The Big Bad Blues is now available for pre-order. Find out further details below.
Gibbons will head out on tour in support of the new album from October (opens in new tab).
1. Missin' Yo' Kissin' (Gilly Stillwater)
2. My Baby She Rocks
3. Second Line
4. Standing Around Crying (Muddy Waters)
5. Let the Left Hand Know…
6. Bring It to Jerome (Jerome Green)
7. That's What She Said
8. Mo' Slower Blues
9. Hollywood 151
10. Rollin' and Tumblin' (Muddy Waters)
11. Crackin' Up (Bo Diddley)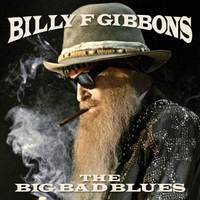 (opens in new tab)
Billy Gibbons - The Big Bad Blues (opens in new tab)
ZZ Top's Billy Gibbons is back with his first solo album since 2015's Perfectamundo, featuring a collection of original tracks plus some classic blues covers.