Disturbed have released a behind-the-scenes video showing them working on their track Are You Ready.
The band shared a promo of the song last month (opens in new tab) as they announced details of their highly anticipated new album Evolution, which will launch on October 19 via Reprise Records.
The clip features footage from the studio along with an interview with frontman David Draiman, who says: "This album is a very heavy undertaking. We're coming off of one of the most successful record cycles and touring cycles of our career with Immortalized. It's a lot to live up to."
Draiman is the cover star of the latest issue of Metal Hammer magazine, which is on sale now (opens in new tab). And in an exclusive interview, he calls Evolution their "Black Album."
He adds: "We've always used that as a goal – the record that literally every single track on it could be a hit. A record that breaks doors down, that opens up new opportunities to us, that helps you achieve true immortality as an artist."
This month's edition also features While She Sleeps, Halestorm, Arch Enemy, Anthrax, Joey Jordison and much more.
Disturbed - Evolution
1. Are You Ready
2. No More
3. A Reason to Fight
4. In Another Time
5. Stronger On Your Own
6. Hold On To Memories
7. Savior of Nothing
8. Watch You Burn
9. The Best Ones Lie
10. Already Gone
Deluxe bonus tracks
11. The Sound of Silence [Live] (Featuring Myles Kennedy)
12. This Venom
13. Are You Ready (Sam de Jong Remix)
14. Uninvited Guest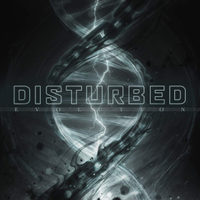 (opens in new tab)
Disturbed - Evolution (opens in new tab)
Disturbed are back with their new album Evolution - the highly anticipated follow-up to 2015's Immortalized (opens in new tab) featuring the stunning lead track Are You Ready.