Steve Perry has released a studio video for his new track We're Still Here.
It's the latest song taken from the former Journey frontman's upcoming solo album Traces, which is due to launch on October 5 via Concord Records. Perry previously shared promos for No More Cryin' (opens in new tab) and No Erasin'.
We're Still Here was co-written by Perry and Brian West, with the album version featuring a string arrangement by David Campbell.
The song is said to be inspired by Perry's "experience of walking the streets of Hollywood and feeling a sense of connection and solidarity with a whole new generation running wild on the same streets that he once had."
Traces will be the singer's first solo outing since 1994's For The Love Of Strange Medicine.
Speaking about his return to music, Perry says on his website (opens in new tab): "I would not come back to it now unless I could be absolutely emotionally honest about the music.
"I'm not trying to top what I've done in the past, or better anyone or anything. That stuff doesn't matter to me now. In a way, it's this simple: When I had something to say again, I said it.
"All I'm trying to do now is make music that really matters to me and I hope maybe will really matter to other people too."
Traces is now available for pre-order. Find details below.
Steve Perry - Traces
1. No Erasin'
2. We're Still Here
3. Most Of All
4. No More Cryin'
5. In The Rain
6. Sun Shines Gray
7. You Belong To Me
8. Easy To Love
9. I Need You
10. We Fly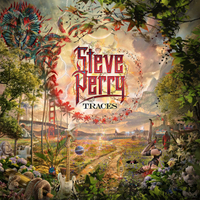 (opens in new tab)
Steve Perry - Traces (opens in new tab)
Former Journey vocalist Steve Perry returns with his highly anticipated new solo album Traces – his first since 1994's For The Love Of Strange Medicine.