Soen have announced plans to release their fourth studio album early next year.
The Swedish-based progressive metal outfit will launch Lotus on February 1 via Silver Lining Music and then embark on a European tour throughout March and April.
Drummer and percussionist Martin Lopez says: "We are all very fortunate to have this place where we can go and explore thoughts, perspectives and emotions which everyday life maybe does not have the room for.
"There are definitely things that we say, and places we go, in Soen which would be very hard to express without us coming together and creating music."
The band record the record with producer David Castillo and Iñaki Marconi at Ghostward Studios and Studio 6 earlier this year, with the new record Soen's first with Canadian guitarist Cody Ford.
As for the direction of the new material, Lopez says: "The world right now is undeniably a very strange, tense place.
"I think the songs clearly reflect that, but they also reflect that we must now be stronger than ever in challenging confronting and dealing with the pandemonium life throws at us all."
Lotus pre-orders will begin on Friday, November 16, while the band's 2019 European tour dates can be found below.
In September this year, Soen revisited their third album Lykaia, which featured live tracks from their 2017 European tour and also included updated cover art by Paul Tippett.
Soen 2019 European tour dates
Mar 12: Oslo John B, Norway
Mar 13: Copenhagen TBC, Denmark
Mar 14: Hamburg Logo, Germany
Mar 15: Berlin Roadrunner, Germany
Mar 18: Munich Backsatge Werk, Germany
Mar 20: Aschaffenburg Colos Saal, Germany
Mar 21: Cologne Helios, Germany
Mar 22: Eindhoven De Effenaar, Netherlands
Mar 25: London O2 Academy Islington, UK
Mar 28: Barelona Salamandra, Spain
Mar 29: Madrid Caracol, Spain
Mar 30: Porto Hard Club, Portugal
Mar 31: Lisbon RCA, Portugal
Apr 03: Pratteln Z7, Switzerland
Apr 04: Milan Legent Club, Italy
Apr 05: Rome Orion Ciampino, Italy
Apr 06: Fabricia Sonic Room, Italy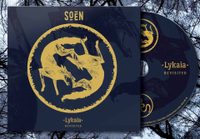 Soen - Lykaia Revisited
Prog metal outfit Soen revisit their third album Lykaia and add three live tracks recorded during their 2017 European tour, while the cover artwork has also been updated.