Rick Wakeman - Piano Odyssey
1. While My Guitar Gently Weeps (The Beatles)
2. Liebestraum (Liszt) / After The Ball (Wakeman)
3. And You & I (Yes)
4. Rocky (The Legacy) (Wakeman)
5. The Boxer (Simon & Garfunkel)
6. The Wild Eyed Boy From Freecloud (Bowie)
7. Strawberry Fields Forever (The Beatles)
8. Roundabout (Yes)
9. Cyril Wolverine (Wakeman)
10. Jane Seymour (Wakeman)
11. Largos (Handel & Dvorak)
12. Bohemian Rhapsody (Queen)
Rick Wakeman has announced that he'll release a new classical album later this year.
Piano Odyssey will arrive on September 14 via Sony Classical, with all tracks personally chosen, crafted, orchestrated and arranged by Wakeman himself.
It will feature reworkings of material from his solo career along with Yes songs and covers of tracks by artists including the Beatles, David Bowie and Queen.
Wakeman says: "All of the music chosen contains the most beautiful melodies and this is the key to being able to present fresh arrangements which can only enhance the reputation of the original.
"Every track has a meaning and is tailor-made for the piano. It was pure joy to make this album and I have to thank all those involved for their enthusiasm as Piano Odyssey grew to reality."
Label head of Sony Music Masterworks UK, Sarah Thwaites, adds: "I'm beyond thrilled that Rick Wakeman has chosen to augment the prestige of Sony Classical with his new album.
"Apart from his proven musicality and unique artistry, he is an industry legend who has inspired hundreds of fledgling artists over the years. This new recording is a fitting celebration of Rick's impressive legacy at the very pinnacle of superstardom."
Wakeman will tour in support of the album later this year.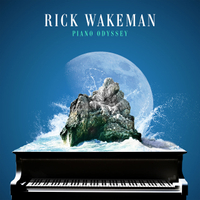 Rick Wakeman - Piano Odyssey
Rick Wakeman will release his new classical album in September featuring reworkings of material from his solo career, along with Yes tracks and cover of songs by artists including Queen and the Beatles.
Rick Wakeman 2018 Piano Odyssey UK tour dates
Sep 27: Salisbury City Hall
Sep 28: Yeovil Westland Leisure Complex
Sep 29: Aylesbury Waterside Theatre
Sep 30: York Barbican Centre
Oct 04: Reading Hexagon
Oct 05: King's Lynn Corn Exchange
Oct 11: Ipswich Corn Exchange
Oct 12: Northampton Royal And Derogate
Oct 13: Scunthorpe The Baths Hall
Oct 19: Bath The Forum
Oct 20: High Wycombe Wycombe Swan
Oct 21: Oxford The Sheldonian Theatre
Nov 09: Halifax Victoria Theatre
Nov 17: Dorking Halls
Dec 16: Bristol St Georges
Dec 17: London Union Chapel
Dec 18: Cambridge Corn Exchange
Dec 19: Manchester RNCM Concert Hall