Motionless In White have released a video for their new single Voices.
The song originally appeared on the US outfit's fourth studio album Graveyard Shift, which launched in May last year via Roadrunner Records.
Speaking to Metal Hammer earlier this year about the follow-up to 2014's Reincarnate, frontman Chris 'Motionless' Cerulli said: "I know I sound like every other band when I say it's our best record – I don't think I've ever heard a band say their new album is 'okay' compared to their other records!
"There wasn't this questioning about where we wanted to go, we knew exactly what we wanted to do, we made the album we really wanted to make and every other cliché that bands say about their new album!
"I love it and the fan reaction has been really positive. There are things I'd do differently in terms of how the album was rolled out, but I stand by the album and it's cool to see fans around the world responding to it."
Motionless In White will head out on the road across North America this summer on the Vans Warped Tour. Find out more.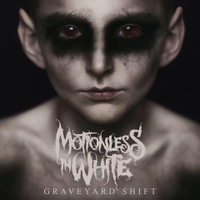 Motionless In White - Graveyard Shift
Pennsylvanian goth rockers Motionless In White return with Graveyard Shift - their first album since 2014's Reincarnate - for more stomping riffs and synth-driven musical mayhem.