Machine Head have released a live video for their track Volatile.
The song features on the band's latest album Catharsis (opens in new tab), which launched back in January via Nuclear Blast.
The new promo was created by Fiaz Farrelly, with the footage captured during the band's UK tour in May this year.
Check it out below.
Speaking to Metal Hammer about Catharsis, frontman Robb Flynn said: "To my ears it's the record that could have followed The Burning Red, except that this has a much more aggressive production.
"The Burning Red had a much darker, more stoner vibe. This has a real classic Blackening, Burn My Eyes production, but I've still been saying to people on these Facebook Live things I do that you need to lower your expectations for the heaviness!"
Machine Head will head out on the second leg of a North American tour in support of their new album from October. Find a full list of dates below.
Machine Head North American tour - second leg
Oct 04: Sacramento Ace Of Spades, CA
Oct 06: Missoula The Wilma, MT
Oct 08: Calgary Palace Theatre, AB
Oct 09: Edmonton Union Hall, AB
Oct 10: Saskatoon Louis, SK
Oct 12: Winnipeg The Garrick, MB
Oct 13: Minot The Original, ND
Oct 15: Minneapolis First Avenue, MN (make-up-date)
Oct 17: Madison Majestic Theatre, WI (make-up-date)
Oct 18: Des Moines Wooly's, IA (make-up-date)
Oct 19: Kansas City Truman, MO
Oct 20: Joliet The Forge, IL
Oct 22: Cleveland Agora, OH (make-up-date)
Oct 23: Grand Rapids Intersection, MI
Oct 24: Detroit Majestic Theatre, MI (make-up-date)
Oct 26: Ft. Wayne Clyde Theatre, IN
Oct 27: Columbus Newport, OH
Oct 29: Pittsburgh Stage AE, PA (make-up-date)
Oct 30: Hartford The Webster, CT
Oct 31: Huntington Paramount, NY
Nov 02: Sayreville Starland, NJ
Nov 03: Richmond National, VA
Nov 04: Baltimore Soundstage, MD
Nov 07: Asheville Orange Peel, NC
Nov 09: Louisville Mercury Ballroom, KY
Nov 10: Nashville Exit In, KY
Nov 11: Charlotte Underground, NC
Nov 13: Ft. Lauderdale Revolution, FL
Nov 14: Tampa The Ritz, FL
Nov 16: New Orleans House Of Blues, LA
Nov 17: Austin Emos, TX
Nov 18: Lubbock Jake's, TX
Nov 20: Tuscon Club X, AZ
Nov 21: San Diego House Of Blues, CA
Nov 23: Anaheim House Of Blues, CA
Nov 24: Santa Cruz Catalyst, CA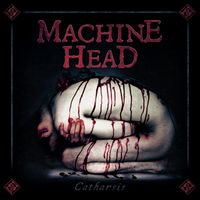 (opens in new tab)
Machine Head - Catharsis (opens in new tab)
Machine Head's follow-up to 2014's Bloodstone & Diamonds features an array of explosive tracks including Volatile, Kaleidoscope and Beyond The Pale.