Head With Wings - From Worry To Shame
1. Goodbye Sky
2. Somewhere, Something Gives
3. In Memoriam
4. Misanthropy
5. From Worry To Shame
6. Beyond The Wall
7. Stepping Stone
8. In Dark Motel Rooms
9. Treading Lightly
Head With Wings have released an audio/visual stream of their debut album From Worry To Shame exclusively with Prog.
The duo of Joshua Corum and Brandon Cousino will officially launch the record tomorrow (June 1) but Prog readers can listen to all nine tracks below.
Corum says: "Head With Wings is pleased to partner with Prog magazine for the exclusive early access stream of our new album From Worry To Shame.
"Within the progressive music paradigm, we feel liberated as artists to explore the themes and ideas that we set our hearts and minds on – no matter how dark or controversial they might be.
"Prog has always provided a broad platform for ambitious artists from around the world and with that comes one of the most open minded music audiences on the web.
"Thank you to both Prog magazine and its reader base for giving our band a shot. We're proud to present our album to you one day ahead of release."
The nine tracks follow the trials and tribulations of a school teacher who loses his daughter in a school shooting, and was inspired by the Sandy Hook Elementary School massacre which happened in the band's home state of Connecticut in December 2012.
Explaining the visuals that accompany the exclusive album stream, Corum says: "They are derived from our most recent music video for Somewhere, Something Gives. Just as the music video, the stream was directed by The Black Soil filmmakers Igor Dovgoteles and Lina Volokhova.
"Igor saw fit that we use the album stream as an opportunity to develop a quintessence of the themes of our Somewhere, Something Gives video. In that video, we see the visualisation of our protagonist's living nightmare. Through the shooting, he loses his daughter which is then followed by his wife's suicide.
"In the album stream video, the family is reunited; together as a monument. Behind them is a broken hourglass that represents the suspension of time.
"There is comfort for me in seeing our characters reunited, in what I've dubbed a 'post album visualisation.'
Pre-order the album below.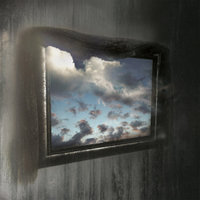 Head With Wings - From Worry To Shame
The duo of Joshua Corum and Brandon Cousino release their stunning debut album, which features sweeping melodic passages and heavier moments - all mixed with beautiful soaring vocals.