Jason Becker has released a video for his brand new single Hold On To Love.
The song will feature on his upcoming studio album Triumphant Hearts, which will launch on December 7 via Music Theories Recordings/Mascot label Group.
Hold On To Love features Californian vocalist Codany Holiday, who joins artists including Steve Vai, Joe Bonamassa, Paul Gilbert, Neal Schon, Marty Friedman, Michael Lee Firkins, Mattias IA Eklundh, Greg Howe, Jeff Loomis, Richie Kotzen, Gus G, Steve Hunter, Ben Woods and Matt and Gregg Bissonette on the record.
In 1990 Becker was diagnosed with ALS a week after joining David Lee Roth's band, but still managed to play on the album A Little Ain't Enough before being replaced.
Despite his declining health – Becker can no longer walk, talk or play guitar, and needs assistance to breathe – he's continued to make music, and in 2012 was the subject of the documentary, Jason Becker: Not Dead Yet.
Becker says: "This is my story, and in a way, everyone's story. Life – we are all just trying to be happy. People are baffled that I can be happy after almost 30 years with ALS.
"Even I sometimes wonder how it is possible. This song is the simple answer. Most of this video takes place in my mind. I am talking to myself, looking for answers, thinking about the past and some of the people I love, and it all comes out in music."
Becker communicates using a system devised by his father that allows him to spell out musical notes, chords and words. The information is then fed into a computer, where the parts are edited before the music charts are sent to his collaborators.
For more information about ALS, which kills six people per day in the UK and remains incurable, visit the Motor Neurone Disease website.
Jason Becker: Triumphant Hearts tracklist
1. Triumphant Heart (ft. Marty Friedman, Gluaco Bertagnin, Hiyori Okuda)
2. Hold On To Love (ft. Codany Holiday)
3. Fantasy Weaver (ft. Jake Shimabukuro)
4. Once Upon A Melody
5. We Are One (ft. Steve Knight)
6. Magic Woman (ft. Uli Jon Roth, Chris Broderick)
7. Blowin' In The Wind
8. River of Longing (ft. Jon Satiriani, Aleks Sever, Guthrie Govan, Steve Morse)
9. Valley of Fire (ft. The Magnificent 13)
10. River of Longing (ft. Trevor Rabin)
11. Taking Me Back
12. Tell Me No Lies
13. Hold On To Love (ft. Codany Holiday) [Chuck Zwicky Remix]
14. You Do It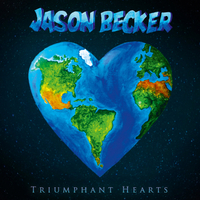 Jason Becker: Triumphant Hearts
Jason Becker's new album features a variety of guest musicians including Steve Vai, Joe Bonamassa, Neal Schon, Richie Kotzen and Gus G.