Guns N' Roses have released an unboxing video showcasing the massive Locked N' Loaded edition of their classic 1987 album Appetite For Destruction.
The deluxe box set will arrive on Friday (June 29) via UMC/Polydor and in various other formats including CD, 2CD deluxe edition, 2LP 180g vinyl and a super deluxe edition CD set.
Now fans can see everything included in the limited edition Locked N' Loaded version, which costs $1000. Watch the video below.
A total on 10,000 copies will be released and includes the 4CD super deluxe edition with the album newly remastered for the first time, B-Sides N' EPs, the previously unreleased 1986 Sound City Session N' More recordings, and the Live ?!*@ Like a Suicide EP which contains the extra track Shadow Of Your Love.
A Blu-ray audio disc will contain the album, bonus tracks and promotional videos in 5.1 surround sound, along with the video for It's So Easy which was originally shot in 1989 but not released until earlier this year.
A total of six replica 7-inch singles also be included, plus a vinyl pressing of Shadow Of Your Love on yellow vinyl, along with a 96-page book with previously unreleased photos from frontman Axl Rose's personal archive.
The entire collection will feature 73 tracks, of which 49 are previously unreleased.
Earlier this week, Guns N' Roses shared a lyric video for Shadow Of Your Love which was originally recorded during the band's 1986 Sound City sessions.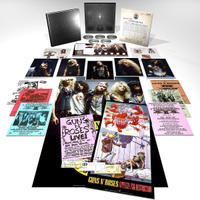 The Locked N' Loaded edition will also come with:
• 12 new illustration lithos – visualising each song from the album
• 5 Metal band skull face rings
• 5 Metal band skull face lapel pins
• 5 Metal guitar picks with band skull faces & signatures
• 5 previously unseen band member lithos
• 5 GN'R Logo Buttons
• Robert Williams painting litho
• Replica '85/'86 gig banner
• Welcome To The Jungle video invite flyer – originally drawn by Slash
• Turntable mat
• Microfiber vinyl cleaning cloth
• 7-inch large hole adapter
• 6 replica early years gig flyers
• 6 iron-on stitched logo patches
• 2-inch collectable coin
• Bandana with silver metallic ink
• 2 wall posters
• Temporary band member tattoos
• 3 replica ticket stubs
• Numbered certificate of authenticity