Disturbed have revealed that they'll release a new single tomorrow (September 21).
They've chosen A Reason To Fight, which follows Are You Ready (opens in new tab). Both songs will feature on Disturbed's highly anticipated new studio album Evolution, which will arrive on October 19 via Reprise Records.
The band have called the album "truly unique, and very special to us" and said it showcases "the most adventurous and eclectic combination of musical styles and moods that we've ever attempted in our careers."
And, in a recent exclusive interview with Metal Hammer, vocalist David Draiman called the follow-up to 2015's Immortalized their "Black Album".
He said: "We've always used that as a goal – the record that literally every single track on it could be a hit. A record that breaks doors down, that opens up new opportunities to us, that helps you achieve true immortality as an artist."
Disturbed - Evolution
1. Are You Ready
2. No More
3. A Reason To Fight
4. In Another Time
5. Stronger On Your Own
6. Hold On To Memories
7. Savior of Nothing
8. Watch You Burn
9. The Best Ones Lie
10. Already Gone
Deluxe bonus tracks
11. The Sound of Silence [Live] (Featuring Myles Kennedy)
12. This Venom
13. Are You Ready (Sam de Jong Remix)
14. Uninvited Guest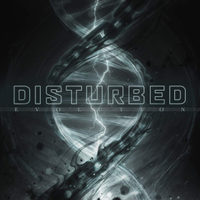 (opens in new tab)
Disturbed - Evolution (opens in new tab)
Disturbed are back with their new album Evolution - the highly anticipated follow-up to 2015's Immortalized (opens in new tab) featuring the stunning lead track Are You Ready.