Rikard Sjöblom's Gungfly have released a video showcasing live performances of the tracks Anna-Lee and Polymixia.
The band are gearing up to launch their new album Friendship on November 9 via Inside Out Music. And while they're prepping it for launch, Big Big Train and former Beardfish member Sjöblom says he thought it would be fun to feature a couple of his older tracks ahead of the album's release.
He says: "In January 2018 we went out with Gungfly to support Kayak in Holland on their Seventeen tour. It was a fun tour – we ended up playing a mix of material from all the albums in our set and one evening in Zoetermeer the cameras were rolling.
"I thought it sounded nice and thought to myself, 'Why not release a couple of songs online?'
"When it came to pick the tunes I wanted to share both the rocking, pop-oriented side of Gungfly with the track Anna-Lee from The Unbendable Sleep (opens in new tab), but also the more intricate and prog-rocking 11-minute instrumental extravaganza that is Polymixia from On Her Journey To The Sun (opens in new tab).
"They both share these funky elements so I think they go well together and showcase some of the variety in the Gungfly catalogue. Now go dig it!"
The band released the Friendship single Ghost Of Vanity (opens in new tab) earlier this month.
Richard Sjöblom's Gungfly - Friendship
1. Ghost Of Vanity
2. Friendship
3. They Fade
4. A Treehouse In A Glade
5. Stone Cold
6. If You Fall, Pt. 2
7. Crown Of Leaves
8. Slow Dancer (Bonus Track)
9. Past Generation (Bonus Track)
10. Friendship (Utopian Radio Edit) (Bonus Track)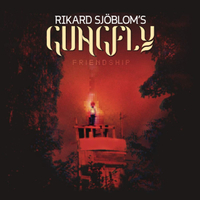 (opens in new tab)
Richard Sjöblom's Gungfly - Friendship (opens in new tab)
Richard Sjöblom's Gungfly return with their new album Friendship - the follow-up to On Her Journey To The Sun. It features the lead track Ghost Of Vanity.