Anthrax's drummer Charlie Benante has hinted at the musical direction of the band's next studio album.
The thrash veterans are currently working on ideas for the follow-up to 2016's For All Kings as they prepare to head out on tour across the UK and Europe with Slayer.
And, speaking with the Heavy Music Interviews show, Benante says: "This next record is definitely going to be a little more extreme and a little more angry in places, because I just think that's where I am at this point in the world.
"Right now I'm very angry with a couple of things that have happened – and I'm also very happy. So I think it's going to be a really good blend of anger and happy."
Benante was also asked if he could describe Anthrax's contribution to the metal scene, to which he replies: "I think that we were one of the bands that really broke down some boundaries of traditional heavy metal.
"We were one of the bands who embraced a different form of music and incorporated it into our style of music.
"We also took that and just wanted to play a form of music that came from outside of heavy metal, but we did it in a very New York-type of sound and style – we didn't look or sound like other bands."
Anthrax's live shows with Slayer will get under way at Dublin's 3Arena on November 1 – find a full list of their planned shows.
Earlier this month, Anthrax issued their 1988 album State Of Euphoria to celebrate its 30th anniversary.
It launched via Island Records/UMC on 2CD, 2LP and limited edition red and yellow vinyl. The package also includes the original remastered album and bonus tracks, while a second disc features nine studio demos from Benante's personal archive.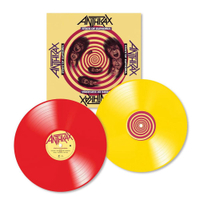 Anthrax - State Of Euphoria Reissue
It's hard to believe, but Anthrax's State Of Euphoria turned 30 this year. And to celebrate, the band have reissued the 1988 record complete with bonus tracks.