Aviv Geffen and Steven Wilson have revealed that they'll release an album titled Open Mind: The Best Of Blackfield later this year.
The 15-track collection will arrive on September 28 via Kscope and will include new artwork by Hajo Müller.
The compilation has been curated by Geffen and Wilson and covers material recorded from all five of their studio albums.
Wilson says: "Blackfield appealed to me because it was a chance to focus firmly on the art of the classic pop song with concise songs and strong melodies, harmonies, orchestration, and a very lush 'golden' production."
The duo's last album was Blackfield V (opens in new tab), which launched in February 2017 and was recorded over the space of 18 months between Israel and England.
Open Mind: The Best Of Blackfield is now available for pre-order. Find details below.
Open Mind: The Best Of Blackfield tracklist
1. Blackfield
2. Family Man
3. Open Mind
4. 1,000 People
5. Oxygen
6. Hello
7. Once
8. How Was Your Ride?
9. Waving
10. From 44 To 48
11. Pain
12. October
13. Faking
14. Dissolving With The Night
15. End Of The World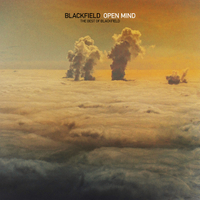 (opens in new tab)