Bad Wolves have released a powerful video for their new single Remember When.
The song appears on the band's debut album Disobey, which launched in May via Elven Seven Music.
Frontman Tommy Vext explains that the Wayne Isham-directed promo focuses on his relationship with his brother.
He said to Kerrang: "My twin brother is currently serving 17 years for attempted murder – he tried to kill me during a home invasion when he was high in 2010. Testifying against him was definitely one of the more difficult moments of my life."
Speaking about the track, Vext adds: "Remember When kinda goes through a timeline and highlights two people who lived the exact same life and had the exact same hardships and advantages and disadvantages, and who we are ultimately as adults is defined by the choices that we made, and our lives reflect those choices."
Earlier this week at their show in New York, Bad Wolves donated $250,000 to the family of late Cranberries singer Dolores O'Riordan, after Vext and co recorded a cover of the band's classic track Zombie.
Vext says: "Our sadness the day Dolores passed was nothing compared to that of her children and her family. In light of the tragedy, donating our proceeds to her children was the only thing that made sense.
"The ultimate goal is to present them with a $1,000,000 cheque – and the fact we're a quarter of the way there is beyond incredible.
"The connection that people have to this song, the stories, the memories and the kids who are hearing this song through Bad Wolves for the first time – it's a true testament to the timelessness of their mother's songwriting that will live on forever, and we are so grateful to be able to do this for them."
Bad Wolves' North American tour continues tomorrow night (June 22) in Norfolk, Virginia.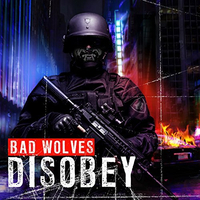 Bad Wolves - Disobey
Bad Wolves released their debut album Disobey in May 2018. Among the 13 tracks is the band's cover of Cranberries' classic Zombie - a tribute to late Cranberries singer Dolores O'Riordan.