Metallica's multi-disc version of ...And Justice For All, has had its price slashed at Amazon UK.
The expansive set, which features 11 CDs, four LPs and four DVDs, also contains a tour laminate, a set of four patches, a Pushead print, a lyric folder and sheets, and a 120-page hardcover book featuring plenty of previously unseen photos and stories.
The price? Well, it was £150. But Amazon have cut the price to just £88.99. These prices tends not to hang for long, so if you fancy owning the deluxe edition of ...And Justice For All, now's your time.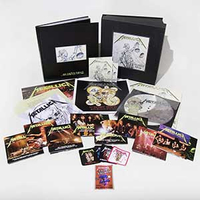 Order Metallica's ...And Justice For All set for £88.99 (was £150)
Justice marked the moment at which Metallica, having survived the tragic loss of bassist Cliff Burton, entered the big league, playing arenas and cracking the Billboard Top 10.
This immersive collection captures the excitement of an era sometimes overlooked between their twin peaks of Master Of Puppets and the Black Album.