Roine Stolt's The Flower King have released a stream of their new single High Road.
The epic 12-minute track features on the new album Manifesto Of An Alchemist, which launched today via InsideOut Music.
Stolt says: "Today marks the day that Manifesto Of An Alchemist is released worldwide and I'm glad to be able to celebrate this and The Flower Kings' music with our fans in Guadalajara, Mexico.
"It is a truly special release day for me and I hope you will all enjoy this album as it offers an extensive prog rock journey that I consider a wonderful contrast to the haste and hectic pace of this age.
"So, enjoy the 12 minutes of High Road on this day, get the album – and see you on our European tour with Spock's Beard kicking off November 30!"
Stolt is joined on Manifesto Of An Alchemist by a number of guest musicians, including Jonas Reingold, Hans Froberg, Michael Stolt, Marco Minnemann, Max Lorentz, Zach Kamins, Rob Townsend and Nad Sylvan.
Manifesto Of An Alchemist is now available to purchase. Find further details below.
Roine Stolt's The Flower King - Manifesto Of An Alchemist
1. Rainsong
2. Lost America
3. Ze Pawns
4. High Road
5. Rio Grande
6. Next To A Hurricane
7. The Alchemist
8. Baby Angels
9. Six Thirty Wake-Up
10. The Spell Of Money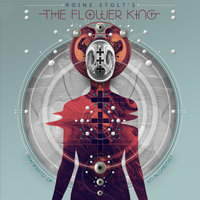 South American 2018 tour dates
Nov 23: Guadalajara C3 Stage, Mexico
Nov 24: Mexico City Auditoria Blackberry, Mexico
InsideOutMusic 25th Anniversary European Tour feat. Spock's Beard & Roine Stolt's The Flower King
Nov 30: Oslo Cosmopolite, Norway
Dec 01: Stockholm Kulturhuset Studion, Sweden
Dec 02: Malmo KB, Sweden
Dec 04: Bochum Zeche, Germany
Dec 05: Pratteln Z7, Switzerland
Dec 06: Paris La Machine, France
Dec 07: Zoetermeer De Boerderij, Netherlands
Dec 08: Zwolle Hedon, Netherlands
Dec 09: London Islington Assembly Hall, UK
Dec 10: Manchester Academy Club, UK