Marshall have opened their spring sale by slashing prices across their extensive line of speakers - and that includes knocking their popular Emberton range of speakers down from £129 to £99 - that covers the popular portable speaker in four colour variations: Black & Brass, Cream, Black and Forest.
Also included in the Marshall Spring Sale is the pocket-sized Willen speaker - down from £99.99 to £79, while the Woburn II Bluetooth speaker has been reduced from £469.99 to £379. It ranks in the top 5 in our list of the Loudest Bluetooth speakers thanks to its powerful sound, which is fuelled by double subwoofers and bass reflex system and is definitely worth a closer look if you're after a speaker that packs a punch.
The Marshall Spring Sale runs through April 16 and is currently UK-only.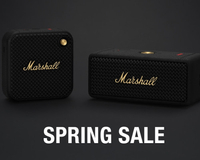 Marshall are also known for their choice of headphones, and they've decided now is the time to freshen up the look of their Minor III in-ear headphones.
The Bluetooth 5.2 earbuds have, until now, only been available in black, but you can now get them in cream and burgundy - both of which are available through the official Marshall website for $129.99/£119.99.
And if you're on the lookout for more Marshall goodies, then take a look at our guide to the best Marshall speakers and best Marshall headphones.
Related guides