Heavy Metal World Cup: Scotland vs Germany
Bleed From Within vs Accept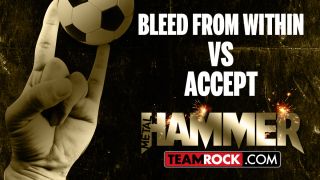 Scotland (Bleed From Within) are in contention for winning the Heavy Metal World Cup if they can beat Germany (Accept).
Sign up below to get the latest from Metal Hammer, plus exclusive special offers, direct to your inbox!
Luke Morton joined Metal Hammer as Online Editor in 2014, having previously worked as News Editor at popular (but now sadly defunct) alternative lifestyle magazine, Front. As well as helming the Metal Hammer website for the four years that followed, Luke also helped relaunch the Metal Hammer podcast in early 2018, producing, scripting and presenting the relaunched show during its early days. He also wrote regular features for the magazine, including a 2018 cover feature for his very favourite band in the world, Slipknot, discussing their turbulent 2008 album, All Hope Is Gone.