Ghost have marked the start of the North American leg of their A Pale Tour Named Death by releasing a new video.
The footage was shot during the band's epic performance at London's Royal Albert Hall in September in support of Ghost's latest studio album Prequelle.
Not only does the video show the band in full flight, but also focuses on the fans who made it to the show for what turned out to be an unforgettable night.
We were there and here's the setlist from the performance.
Ghost's first show on their latest tour will take place tonight (October 30) at the Murat Theatre in Indianapolis ahead of their special Halloween show in Milwaukee tomorrow evening.
The band cut their set at the city's Riverside Theater short in May after Ghost fan Jeff Fortune collapsed during their performance.
Fortune later died of natural causes in hospital, with Tobias Forge and co subsequently issuing a statement to explain that they stopped the show "out of respect to him and his family."
Ghost will return to complete the set tomorrow evening, where the hour-long show will be dedicated to Fortune.
Special t-shirts featuring likenesses of Cardinal Copia and Fortune clad in Michael Meyers costumes will be on sale at the show. All proceeds from sales will go to Fortune's family. Check out the t-shirt design below.
The European leg of A Pale Tour Named Death will take place throughout February next year.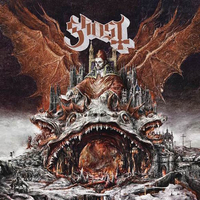 Ghost - Prequelle
Ghost return with their biggest and best record of their career with Prequelle. The follow-up to 2015's Meliora features instant classics Dance Macabre and Rats.