Eric Clapton has released a video for his cover of festive classic White Christmas.
The song appears on Slowhand's latest album Happy Xmas, which launched last month.
The animated claymation-style promo tells the tale of a young boy who desperately wants a guitar for Christmas. But with his parents unable to afford an in instrument, will the lad get his wish?
Watch the eye-catching video for the blues-tinged track below.
Speaking about the record, Clapton said: "I had in my head that these holiday songs could be done with a slight blues tinge, and I started to figure out how to play the blues lines in between the vocals.
"I got it down and one of the most identifiable songs on the album, the one that became the foundational style, is Have Yourself A Merry Little Christmas."
Clapton will return to London's Royal Albert Hall for three nights in May next year and will then play shows in Germany and Austria in June.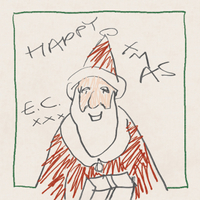 Eric Clapton: Happy Xmas
Eric Clapton releases a new album just in time for Christmas, where Slowhand gives his unique take on a bunch of festive classics, including White Christmas.