All 10 of Kate Bush's studio albums are set to be reissued later this year in a series of box sets.
Each record has been remastered by Bush and James Guthrie and will arrive in November on CD and vinyl. Also included in the collection will be rare tracks and cover versions, along with the live album Before The Dawn.
The first two sets will be released on November 16, with the final two coming out on November 30.
All the albums will feature the original artwork, with new artwork planned for the individual packs. The cover art for the CDs contained in the first box have been redesigned using elements from the originals.
Find a full list of the contents below.
It's also been announced that Faber And Faber will publish a book of Bush's lyrics titled How To Be Invisible on December 6.
Kate Bush Remastered In Vinyl 1
The Kick Inside
Lionheart
Never For Ever
The Dreaming
Kate Bush Remastered In Vinyl 2
Hounds Of Love
The Sensual World
The Red Shoes
Kate Bush Remastered In Vinyl 3
Aerial
Director's Cut
50 Words For Snow
Kate Bush Remastered In Vinyl 4
12-inch mixes
The Other Side 1
The Other Side 2
In Other Words
CD formats
Kate Bush Remastered Part 1
The Kick Inside
Lionheart
Never For Ever
The Dreaming
Hounds Of Love
The Sensual World
The Red Shoes
Kate Bush Remastered Part 2
Director's Cut
50 Words For Snow
Before The Dawn (Original Mastering)
12-inch mixes
The Other Side 1
The Other Side 2
In Others' Words
Kate Bush - Remastered in Vinyl 5
12-Inch Mixes
1. Running Up That Hill (A Deal With God)
2. The Big Sky (Meteorological Mix)
3. Cloudbusting (The Orgonon Mix)
4. Hounds Of Love (Alternative Mix)
5. Experiment IV (Extended Mix)
The Other Side 1
1. Walk Straight Down The Middle
2. You Want Alchemy
3. Be Kind To My Mistakes
4. Lyra
5. Under The Ivy
6. Experiment IV
7. Ne T'Enfuis Pa
8. Un Baiser D'Enfant
9. Burning Bridge
10. Running Up That Hill (A Deal With God) 2012 Remix
The Other Side 2
1. Home For Christmas
2. One Last Look Around The House Before We Go
3. I'm Still Waiting
4. Warm And Soothing
5. Show A Little Devotion
6. Passing Through Air
7. Humming
8. Ran Tan Waltz
9. December Will Be Magic Again
10. Wuthering Heights (Remix / New Vocal from The Whole Story)
In Others' Words
1. Rocket Man
2. Sexual Healing
3. Mná na hÉireann
4. My Lagan Love
5. The Man I Love
6. Brazil (Sam Lowry's First Dream)
7. The Handsome Cabin Boy
8. Lord Of The Reedy River
9. Candle In The Wind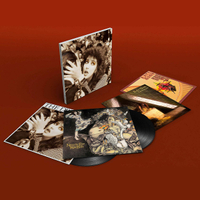 (opens in new tab)
Kate Bush - Remastered In Vinyl (opens in new tab)
All 10 of Kate Bush's studio albums are to be released in four separate box sets in November. The collection will also contain rare tracks and covers