Slash (opens in new tab) ft Myles Kennedy (opens in new tab) And The Conspirators have released a video showcasing their track Shadow Life.
The performance of the World On Fire (opens in new tab) track will feature on the upcoming concert film Living The Dream Tour, which is set to arrive on September 20 through Eagle Vision.
The footage was captured earlier this year at London's Hammersmith Apollo and will launch on DVD/2CD, Blu-ray/2CD, 3LP black vinyl, limited edition 3LP red vinyl, digital video and digital audio.
Speaking about Shadow Life, Slash told Classic Rock (opens in new tab): "When we did Apocalyptic Love (opens in new tab), there was a song called You're A Lie. We wrote that when we were rehearsing before recording. Then, all of a sudden, it wasn't flowing. So on the spur of the moment we tore out the riff, wrote a new chorus and that became You're A Lie.
"After that, we were racking our brains what to do with the riff. I kept dicking around with it and writing new parts. It was the most laboured song on the record because of its origins, but we found a good chorus and it became the song it is now."
Kennedy added: "I loved the TV show Mad Men, and that was the inspiration for this. The main character in Mad Men, Don Draper, leads this kind of double life. The song illustrates how complex life can become when you're trying to lie to yourself and lie to your family."
In July, Slash, Kennedy, Todd Kerns, Brent Fitz and Frank Sidoris shared a trailer for the package along with a live clip of Anastasia (opens in new tab).
The band recently wrapped up a North American tour, with Slash set to hook up with Guns N' Roses (opens in new tab) again at the end of September for the next leg of their Not In This Lifetime tour (opens in new tab).
Slash ft Myles Kennedy And The Conspirators: Living The Dream Tour
1. The Call Of The Wild
2. Halo
3. Standing In The Sun
4. Ghost
5. Back From Cali
6. My Antidote
7. Serve You Right
8. Boulevard Of Broken Hearts
9. Shadow Life
10. We're All Gonna Die
11. Doctor Alibi
12. Lost Inside The Girl
13. Wicked Stone
14. Mind Your Manners
15. Driving Rain
16. By The Sword
17. Nightrain
18. Starlight
19. You're A Lie
20. World On Fire
21. Avalon
22. Anastasia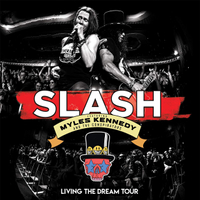 (opens in new tab)