The Vibes Hi-Fidelity earplugs sit at the no.2 spot in our guide to the best earplugs for music thanks to their discreet design and 22dB noise reduction level - and with the Black Friday sales coming in, Amazon US have cut the price by 36%, taking them down from $33.99 to just $21.71.
These silicone earplugs will protect your ears while letting you to hear the finer details of live music and the Louder team recommend them if you need a new pair of earplugs - especially at this price.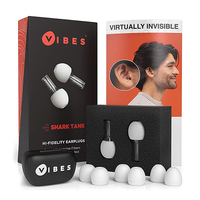 Vibes Hi-Fidelity earplugs: Were $33.99, now $21.71
Comfy, discreet and containing high-quality attenuating filters, the Vibes Hi-Fidelity earplugs are a great choice for concert goers who want to protect their ears while still rocking out. Amazon have cut the price by 36% for Black Friday making this a great time to grab a pair.
I've noticed that while many music venues give earplugs away at concerts, they tend to be the most basic type: one-use foam earplugs. These should only be used in emergencies and although they're better than nothing, they will only muffle the sound of the live music. That's why investing in a good set of earplugs such as the Vibes Hi-Fidelity is so important.
Packaged with three ear-tip sizes, these compact eaplugs are designed to nestle discreetly inside the ears, protecting your hearing without any fuss. Vibes has fitted these silicone earplugs with high-quality attenuating filters that enable you to hear the detail of the music and, once the gig is over, you can place the plugs safely back in their hard carry case, so they're much less likely to get lost or damaged.
For more bargains, keep your eyes on our guide to the best Black Friday music deals which is being constantly updated with all the latest discounts.