Slash featuring Myles Kennedy And The Conspirators have released a visual stream of their brand new track titled My Antidote.
It's the latest single taken from the band's upcoming album Living The Dream, which is due out this coming Friday (September 21). They previously released Driving Rain and Mind Your Manners from the record.
Listen to My Antidote below.
Speaking about the follow-up to 2014's World On Fire, Slash said previously: "It's a natural progression, for sure. I think it has a little more diversity – some of the ideas are not really what I would consider to be predictable.
"The record is also a bit more structured, with songs that are shorter and more to the point than last time."
Slash feating Myles Kennedy And The Conspirators are currently on the road across North America and will return to the UK and Europe early next year.
Slash is also the cover star of the latest edition of Classic Rock magazine, which is on sale now (opens in new tab).
In an exclusive interview, the GNR icon talks about healing wounds with Axl Rose, being a dad, the last days of Lemmy, why #metoo is much needed, writing new songs for Guns N' Roses and much more.
Slash featuring Myles Kennedy & The Conspirators - Living The Dream
1. The Call Of The Wild
2. Serve You Right
3. My Antidote
4. Mind Your Manners
5. Lost Inside The Girl
6. Read Between The Lines
7. Slow Grind
8. The One You Loved Is Gone
9. Driving Rain
10. Sugar Cane
11. The Great Pretender
12. Boulevard Of Broken Hearts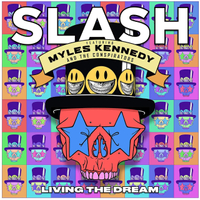 (opens in new tab)