Kinks legend Dave Davies has launched a video for Web Of Time. The track is taken from Davies' album Decade, which was released in October, and featured previously unreleased tracks written by the guitarist in the decade prior to the release of his debut solo album, AFL1-3603, in 1980.
"Web of Time is a previously unreleased song I wrote and recorded in the mid-1970s, which has been embellished for the Decade album," says Davies. "It's about my feelings and reflections about where we stand as people and what we are doing to each other, why we do the things we do. Questioning life - is it just chaos or is there more to it? I think it's poignant for these times."
The video for Web Of Time cuts modern-day footage with previously unseen footage and photos from Davies' personal archive, with clips of Dave with his brother-in-law Mike - who was instrumental in Dave and Ray Davies' early musical development - alongside Dave's sister Dolly.
It also contains footage from the upcoming documentary film Dave Davies: Strangers.
Decade Track Listing
1. Cradle to the Grave
2. Midnight Sun
3. Islands
4. If You Are Leaving
5. Web of Time
6. Mystic Woman
7. Give You All My Love
8. The Journey
9. Within Each Day
10. Same Old Blues
11. Mr. Moon
12. Shadows
13. This Precious Time (Long Lonely Road)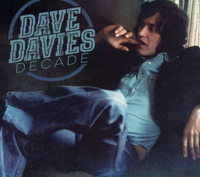 Although not necessarily written with The Kinks in mind, Decade includes "songs from, like, '72, '75, right through that decade," as well as one or two tracks recorded but not used for AFL1-3603. Midnight Sun was inspired by Dave's friendship with a school friend who later fell deep into the hole of drugs, and whose early death affected Dave profoundly, personally and creatively. There are also two instrumental tracks including The Journey intended as an overture for a project that remains elusive.