Earlier this year, Idles held pop-up art exhibitions in London, New York and Paris to raise money for Samaritans.
There were a total of 18 pieces of one-off art created by 10 artists, with each inspired by tracks from the band's latest album Joy As An Act Of Resistance, which also features the song Samaritans.
It's now been revealed that all 18 pieces will be auctioned, with the money raised once again going to the charity.
The auction will go live from 9am GMT on Friday, December 7, and will stagger the end times of the actions every 15 minutes from 6pm on Sunday, December 9.
Samaritans CEO Ruth Sutherland says: "We are really delighted and grateful that Idles are auctioning this fantastic artwork, inspired by the Samaritans track, to support the service our volunteers provide for people.
"Hopefully it will raise awareness of what Samaritans does, and encourage people to look after their own well-being and that of their friends and family, as well as helping Samaritans to be there for people when they need it."
To bid on the artwork, visit the auction website, while all 18 lots can be flicked through below.
Idles will head out on tour next year.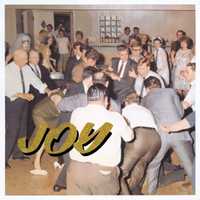 Idles: Joy As An Act Of Resistance
Idles return with their second album Joy As An Act Of Resistance - the follow-up to 2017's Brutalism, featuring the singles Colossus and Great.