Haken are planning on releasing their new studio album later this year, according to drummer Ray Hearne.
The band are mixing the record with former Periphery member Adam "Nolly" Getgood, with Hearne revealing that he's making his mark on what will be their fifth studio album.
Hearne tells Sonic Perspectives: "He's a brilliant guy and already coming up with some crazy and amazing sounding stuff.
"The aim of this album was to go down a heavier and darker route – I'll leave that for the fans to decide. I guess it's a little bit more in the metal realm, but still very much true to what we've always been about as a band. It's not like it's going to be a huge left turn."
And asked when the as-yet-untitled album is likely to appear, Hearne responds: "It'll be out by the end of the year."
Further details will be revealed in due course, while the full interview with Hearne can be listened to below.
Meanwhile, Haken today released their new album L-1VE as a 2CD/DVD package and on digital services.
The DVD features four bonus tracks that were filmed at ProgPower in 2016 and includes Mike Portnoy's cameo appearance on gong.
The disc also contains all of the official videos from the Affinity album.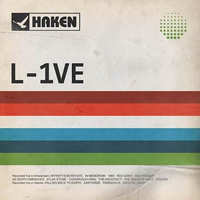 (opens in new tab)
Haken - L-1VE (opens in new tab)
Haken's first live release sees them in sparkling form, with the 2CD/DVD package also featuring four bonus tracks filmed at ProgPower in 2016 and includes a cameo appearance from Mike Portnoy.