Guns N' Roses have shared their previously unseen video for It's So Easy.
The promo was shot at the Cathouse in Los Angeles in 1989 but was never released. It's been launched exclusively on Apple Music, and will appear on the upcoming Appetite For Destruction deluxe edition which is out on June 29 via UMC/Polydor.
It'll launch on various formats including CD, 2CD deluxe edition, 2LP 180g vinyl, a super deluxe edition CD box set and a massive Locked N' Loaded vinyl box set.
The limited edition box set will include the 4CD super deluxe edition featuring the album newly remastered for the first time, B-Sides N' EPs, the previously unreleased 1986 Sound City Session N' More recordings, and the Live ?!*@ Like a Suicide EP which contains the extra track Shadow Of Your Love.
A Blu-ray audio disc will contain the album, bonus tracks and promotional videos in 5.1 surround sound, along with the It's So Easy video.
A total of six replica 7-inch singles also be included, plus a vinyl pressing of Shadow Of Your Love on yellow vinyl, a 96-page book with previously unreleased photos from frontman Axl Rose's personal archive and a host of other exclusive items.
Guns N' Roses will return to Europe this summer for a run of shows including a headline set at the UK's Download festival.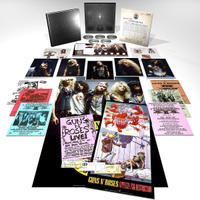 Appetite For Destruction Deluxe Edition
The ultimate Appetite For Destruction package for Guns N' Roses die-hards. A total of 73 tracks are included - 49 of them previously unreleased along with a load of bonus content.
Guns N' Roses 2018 European tour dates
Jun 03: Berlin Olympiastadion, Germany
Jun 06: Odense Dyrskueplausen, Denmark
Jun 09: Donington Download Festival, UK
Jun 12: Gelsenkirchen Veltins-Arena, Germany
Jun 18: Paris Download Festival, France
Jun 25: Mannheim Maimarktgelane, Germany
Jun 26: Bordeaux Matmut Stadium, France
Jun 29: Madrid Download Festival, Spain
Jul 05: Nijmegen Goffertpark, Netherlands
Jul 07: Leipzig Festwiese, Germany
Jul 09: Chorzoq Stadion Slaski, Poland
Jul 13: Moscow Spartak Otkritie, Russia
Jul 16: Tallinn Song Festival Grounds, Estonia
Jul 19: Oslo Valle Hovin, Norway
Jul 21: Gothenburg Ullevi Stadium, Sweden