Avenged Sevenfold have been working on a new track for upcoming video game Call Of Duty: Black Ops 4.
The latest in Activison's hit series is due for release on October 12 on PlayStation 4, Xbox One and PC – but A7X fans won't have to wait that long to hear the new song.
Bassist Johnny Christ tells HardDrive Radio (via Blabbermouth): "The song's written. We're recording it right now. We just took a break in the studio of recording it this last week.
"We're going to finish it up this coming week and then it'll go off to get mixed and mastered – and I believe sometime in July is when everyone will be hearing it for the first time.
"We don't have a name for it yet. M. Shadows is figuring out the lyrics. I think he just finished them before we came out here.
"It's a fun song – it's a little bit of a departure from I think what our fans would expect, but I guess that also makes sense because they expect crazy from us now."
The band previously contributed the track Carry On to Call Of Duty: Black Ops 2 in 2012.
Avenged are the cover stars in the new issue of Metal Hammer, which is on sale now and comes with a world-exclusive tribute CD to the band, with artists including Fozzy and Upon A Burning Body covering their tracks.
There's a six-page interview with the band, with frontman M Shadows revealing that he thinks their 2016 album The Stage will stand the test of time and could go on to become a fan favourite.
The magazine also features Metal Hammer's 2018 Golden God Ozzy Osbourne, Five Finger Death Punch, Abbath, Lamb Of God's Randy Blythe, Tesseract, Bad Wolves, Code Orange and more!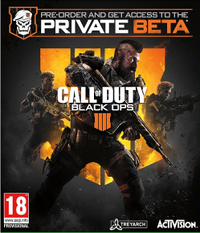 Call Of Duty: Black Ops 4
The latest instalment in Activision's smash hit Call Of Duty series is set to fire its way on to PlayStation 4, Xbox One and PC in October. Don't miss out of what will be yet another explosive experience.