Alter Bridge will reconvene in the spring to begin work on the follow-up to 2016's The Last Hero.
That's according to vocalist Myles Kennedy, who reports that between himself and guitarist Mark Tremonti, the pair have "a whole bunch of ideas" for what will be the band's sixth studio album.
Asked by My Global Mind if it was possible that Alter Bridge could get together next year, Kennedy says: "That's still the plan. In fact, after I finish with the press today, I'll get back to writing.
"Mark Tremonti has been doing the same thing. We will reconvene in April and make a record. There are a whole bunch of ideas being thrown around, it's pretty exciting stuff."
He adds: "It's too early to tell what the vibe is just yet or what will make the cut. Mark and I tend to come up with a lot of ideas that we throw up against the wall to see what will stick.
"The songs we pick will decide the mood of the record and we won't know that until April."
It's been a busy period for Kennedy. Not only did Alter Bridge recently release Live At The Royal Albert Hall, but he's also been involved with Slash on the new album Living The Dream along with launching his solo album Year Of The Tiger.
So why not take a break?
Kennedy replies: "We only have 25,000 to 26,000 days on this planet – that's the number I've heard. I figure to use as many of those days as I can, not just making music and seeing the world, but to make people happy.
"The longer I stay in this business, it's not just about you but it's about your responsibility to make others happy. That certainly helps keep me motivated to continue to make music and tour.
"With that said, I have responsibilities at home as I have a wonderful wife and realise the time is short. I only have a finite amount of time with each other, and I'm aware of that as well.
"In the next couple of years, I'll try and carve out more windows of time to be at home with my wife and dogs. Maybe I'll try and clone myself!"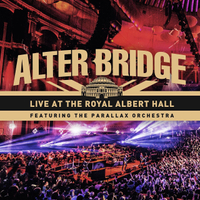 Alter Bridge: Live At The Royal Albert Hall
Alter Bridge's two landmark shows from London's Royal Albert Hall in 2017 are documented with this new release - featuring the band's first ever live performance of Words Darker Than Their Wings.