Yes featuring Jon Anderson, Trevor Rabin and Rick Wakeman have released a live video of their performance of Rhythm Of Love.
The clip has been taken from the band's upcoming album Live At The Apollo, which is set to arrive on 2CD, 3LP, DVD and Blu-ray on September 7 via Eagle Rock Entertainment.
The performance was captured during the band's set at the Manchester venue in early 2017.
Rhythm Of Love originally featured on the Yes album Big Generator from 1987, with Rabin explaining to Billboard (opens in new tab) why the trio decided to introduce the track to their set.
He says: "We decided we're going to explore all this stuff, and when I'm playing something I wasn't involved with recording, I will look at the original version like it's a demo and I bring to it what I would have done if I had recorded it as a new piece.
"So obviously I learn the piece but then I work really hard to express it in my way and change things – obviously with due respect to the original.
"And with my stuff which Rick wasn't involved in, he does the same thing. It makes it quite exciting and things take on a whole new life."
Anderson, Rabin and Wakeman are joined on Live At The Apollo by bassist Lee Pomeroy and drummer Lou Molino III, with the package coinciding with Yes' 50th anniversary.
Yes featuring ARW Live At The Apollo tracklist
1. Orchestral arr
i. Intro
ii. Cinema
iii. Perpetual Change
2. Hold On
3. I've Seen All Good People
i. Your Move
ii. All Good People
4. Lift Me Up
5. And You & I
i. Cord Of Life
ii. Eclipse
iii. The Preacher, The Teacher
iv. Apocalypse
6. Rhythm Of Love
7. Heart Of The Sunrise
8. Changes
9. Long Distance Runaround / The Fish (Schindleria Praematurus)
10. Orchestral Shade / Awaken
11. Make It Easy / Owner Of A Lonely Heart
12. Roundabout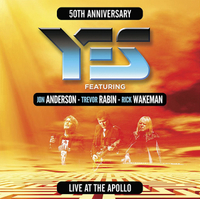 (opens in new tab)
Yes featuring ARW - Live At The Apollo (opens in new tab)
Jon Anderson, Trevor Rabin and Rick Wakeman wowed a sold-out crowd in Manchester last year with the band playing Yes classics including Roundabout and Owner Of A Lonely Heart.