Ghost returned to Milwaukee's Riverside Theatre on Halloween to play a special show in honour of fan Jeff Fortune.
Fortune collapsed during the band's set at the venue back in May and later died of natural causes in hospital. The band cut their set short that night and announced they would return to complete the set on October 31 and dedicate the performance to Fortune, his friends and family.
Footage from the show has now emerged, showing frontman Tobias Forge addressing the crowd prior to the show.
The vocalist says: "I'm very glad to see you here tonight, again. Unfortunately, tragedy brought us here tonight as you all know. We're back here for you and for Jeff Fortune's family who are here tonight.
"I have a feeling the he might be here with us tonight."
Watch the clip below.
Ghost created a special t-shirt featuring the likenesses of Cardinal Copia and Fortune clad in Michael Meyers costumes which were exclusively sold at the show. All proceeds from sales went to Fortune's family.
Ghost's next show will take place tonight (November 2) at Peoria's Civic Center, with the band returning to Europe next year.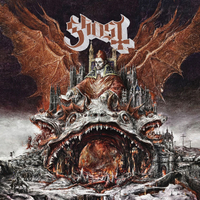 Ghost - Prequelle
Ghost return with their biggest and best record of their career with Prequelle. The follow-up to 2015's Meliora features instant classics Dance Macabre and Rats.