Trevor Horn has announced that he'll release a new studio album in early 2019.
Titled Trevor Horn Reimagines The Eighties, it will launch on February 1 via BMG and sees Horn cover popular tracks from the decade along with The Sarm Orchestra.
He's also recruited a variety of guests for the record, including Marillion frontman Steve Hogarth who appears on the cover of Joe Jackson's It's Different For Girls.
Horn says: "The best thing about making this album was all the fun and laughter that came from hanging out with musicians and artists that I haven't seen for years."
The first track is now available – and it's a cover of the Tears For Fears classic Everybody Wants To Rule The World which was recorded with Robbie Williams.
Check it out below.
Trevor Horn Reimagines The Eighties
1. Everybody Wants To Rule The World (w/ Robbie Williams)
2. Dancing In The Dark (w/ Gabrielle Aplin)
3. Ashes To Ashes (w/ Seal)
4. The Power Of Love (w/ Matt Cardle)
5. It's Different For Girls (w/ Steve Hogarth)
6. Slave To The Rhythm (w/ Rumer)
7. Brothers In Arms (w/ Jim Kerr)
8. Girls On Film (w/ All Saints)
9. What's Love Got To Do With It (w/ Tony Hadley)
10. Owner Of A Lonely Heart
11. Take On Me
12. Blue Monday (w/ Jimmie Wood)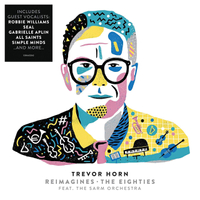 (opens in new tab)
Trevor Horn Reimagines The Eighties (opens in new tab)
Trevor Horn gathers a host of guest musicians to revisit a selection of popular tracks from the 80s, including Marillion's Steve Hogarth and Jim Kerr from Simple Minds