Queen's Brian May has teamed up with astronomy journalist Dave Eicher to produced a new publication titled Mission Moon 3D.
The book will be be published by The London Stereoscopic Company on October 22 and priced at £30 and is the latest visual project the guitarist has been involved with in recent years.
The guitar icon was behind Queen In 3D, a 3D book on Victorian fashion and he also launched two augmented reality apps for Halloween last year.
The new book will take readers on a journey through the events leading up to Apollo 11's moon landing in 1969, with the publication featuring more than 150 views – including previously unseen shots from the NASA archives and from Russian sources.
May says: "I'm proud to present the London Stereoscopic Company's 8th book, and this one is something absolutely unique. With text by astro guru David J. Eicher, it's the story of the space race and the Apollo moon landings told from both sides of the race – and brought to life for the first time ever in true side-by-side full-colour stereoscopic 3D.
"Somehow, although it's 50 years since these historic adventures, the trail is as fresh as ever, especially viewed in the 'virtual' world of the stereoscope."
Each copy on Mission Moon 3D will come with a Lite Owl viewing device, which was designed by May to bring the images to life.
Queen, meanwhile, will release the official soundtrack to the Bohemian Rhapsody film on Friday (October 19) ahead of the biopic's world premiere on October 23.
The 22-track collection will feature previously unreleased audio from the band's celebrated Live Aid performance in 1985, new versions of old favourites and a selection of songs from the band's back catalogue.
Queen are also the cover stars of the new issue of Classic Rock. The latest edition is available now and looks back at the band's first 15 years, from just another band of hopefuls, to global superstars, through worrying slump to ruling Live Aid.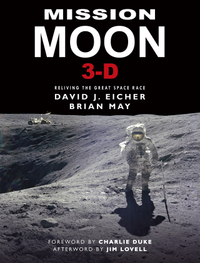 Mission Moon 3D
Queen's Brian May and astronomy journalist Dave Eicher join forces for this new publication featuring more than 150 views of the Apollo 11 mission to the moon.
Queen - Bohemian Rhapsody soundtrack
1. 20th Century Fox Fanfare
2. Somebody To Love
3. Doing All Right... revisited (Performed by Smile)
4. Keep Yourself Alive (Live At The Rainbow)
5. Killer Queen
6. Fat Bottomed Girls (Live In Paris)
7. Bohemian Rhapsody
8. Now I'm Here (Live At Hammersmith Odeon)
9. Crazy Little Thing Called Love
10. Love Of My Life (Rock In Rio)
11. We Will Rock You (Movie Mix)
12. Another One Bites The Dust
13. I Want To Break Free
14. Under Pressure (Performed by Queen & David Bowie)
15. Who Wants To Live Forever
16. Bohemian Rhapsody (Live Aid)
17. Radio Ga Ga (Live Aid)
18. Ay-Oh (Live Aid)
19. Hammer To Fall (Live Aid)
20. We Are The Champions (Live Aid)
21. Don't Stop Me Now… revisited
22. The Show Must Go On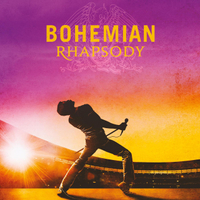 Queen - Bohemian Rhapsody
The official soundtrack to the Queen biopic features previously unreleased audio from Live Aid, new versions of old favourites and a selection of songs from the band's back catalogue.