Saxon's Nigel Glockler had to have his nose reattached over the weekend after he was attacked by a dog.
The drummer was at a pub on Friday when his friend's dog bit him on the face, with Glockler – who underwent successful brain surgery back in 2015 – reporting that it took more than 100 stitches to reattach his nose.
Glockler says: "I was at the pub last night, petting a dog when it decided it did not like my face and took off half my nose.
"I've had over 100 stitches inside and out of the nose and it's been reattached.
"My wife Gina says between this and the scar on my scalp I should change my name to FrankenNigel. The good news is, no problems for the upcoming shows – see you soon!"
Saxon will head back out on the road in support of their latest studio album Thunderbolt next month, with dates planned across the UK and Germany.
Back in September, frontman Biff Byford reported that Saxon were planning a celebration in 2019 to mark the band's 40th anniversary.
Saxon 2018 Thunderbolt tour dates
Nov 08: Bath Forum, UK
Nov 09: Hafan y Môr Hard Rock Hell, UK
Nov 10: Nottingham Royal Concert Hall, UK
Nov 11: Newcastle City Hall, UK
Dec 08: Geiselwind Christmas Bash Festival, Germany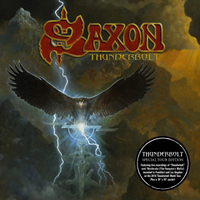 Saxon - Thunderbolt
Saxon return with their explosive new studio album Thunderbolt. It features the track Predator, which sees the UK outfit team up with Amon Amarth frontman Johan Hegg.