Californian company Nixon have worked with artists including Metallica, the Rolling Stones and Grateful Dead in the past - now they're paying tribute to the life and poetry of Tupac Shakur with a range of five limited edition watches.
The first is a gold Time Teller watch which features a golden rose on top of a black background featuring the words to Tupac's Untitled poem. It has a Miyota Japanese quartz hand and a 100 meter water rating. A second Time Teller in black with gold finish is also available with custom bezel and jewellery-style bracelet. The face is pattered with '2PAC' presented in gold lettering.
The gold-on-gold 2PAC Corporal is next in the lineup and has customised art which has been "inspired by Tupac Shakur's iconic sense of style." It features an embossed crucifix atop a patterned backdrop with numerals at the 3 and 9 positions.
Meanwhile, the two-tone 2PAC Sentry Stainless Steel watch features '2PAC' stretching from 12-6 on the face along with a cross design and calendar display.
Finally, there's the 2PAC 51-30 - an oversized watch in black with three gold roses on the face - a design inspired by Tupac's book The Rose That Grew From Concrete.
All five are available to purchase directly from Nixon on both sides of the Atlantic.
Shakur was murdered in a drive-by shooting in Las Vegas in 1996 at the age of 25. Last week, Duane "Keffe D" Davis was arrested in connection with the rapper's death.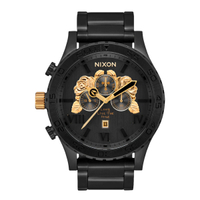 Nixon x 2PAC limited edition watch collection
Previously known for their work with Metallica, the Rolling Stones and Grateful Dead, US brand Nixon have now payed tribute to the life and work of rapper Tupac Shakur by releasing a collection of five limited edition watches.